Best friends Stella, Ana and Dixie have always lived life to the full. But now they're approaching their forties, reality is starting to kill the mood…

Stella loves her children, but misses her glittering career. Plus she can't even remember the last time she had sex.

Ana is trying for a baby with her partner Rex. So why can't she stop thinking about the one that got away?

Dixie is the wildest of them all. A Tinder addict who'll never settle down. But has she accidentally found Mr Right…?

It's time for the friends to shake things up and start having some fun. Because you only regret the things you don't do, right?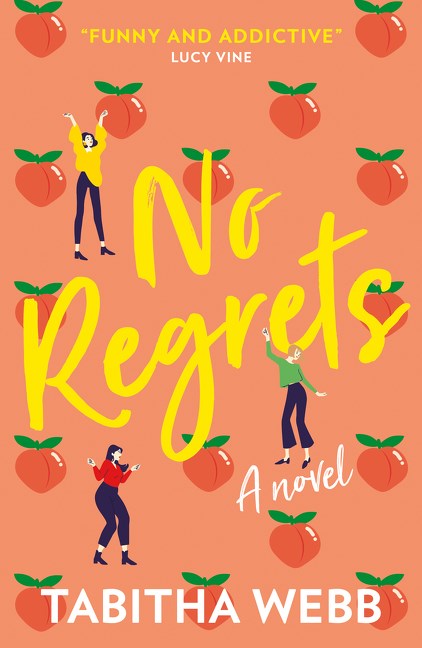 Title: No Regrets
Author: Tabitha Webb
Publisher: HQ
Genre: Contemporary Romance
Age Range: Adult
Trigger Warnings: Sexual Content, Manipulation, Cheating, Pregnancy, Mentions of gambling, Mentions of death
Rating: ★★★☆☆
Review
No Regrets was a fun and light read about love, friendship, and identity. Set in the United Kingdom, we follow three best friends (Stella, Ana, and Dixie) throughout the book. While I enjoyed their friendship and was invested in each of their storylines, I found the writing to be a bit of a stretch at times.
Stella is a stay-at-home mother with a husband who is always gone, yet she can always conveniently meet up with new and old friends. Sometimes even other outings. A couple times there is a mention of her mother watching her kids, but sometimes the husband does and I don't understand how easy it is when they are having issues and he has his secrets. She even goes to a last minute trip to New York! While I enjoyed her search for her identity and purpose, this made it a little unbelievable.
Ana is trying for a baby and as someone who has issues conceiving as well, I really related to her. Her dilemma is wanting to be a mother with a man she doesn't love because her body is against the clock. She is always thinking about her ex (who happens to be a famous musician) and has to workout if she can be happy with her partner. Besides the famous ex, it was a realistic situation and I was very invested. I did have a problem that I will reveal after Dixie.
Dixie is the glamorous one of the bunch. She is always traveling and hooking up with men to then toss aside. She has a carefree life, but soon she meets her match. I loved watching her fall in love, but it was obvious the man she was falling for had something he wasn't telling her.
My problem with all three of the women is that despite all these conflicts, they had a convenient happy ending. Everything came together at the same time and everyone got what they wanted. While I am happy for them, it was just too easy. That was my main issue but other than that, I did enjoy the ride. Just wasn't a memorable ride.
I would like to mention that there is sapphic representation and I really enjoyed it! Don't want to spoil who it is.
I still recommend to fans of romantic comedies and Sex and the City. This is also perfect for reading slumps!
Thank you to HQ and Edelweiss for the arc! This title was released March 2, 2021.
---
we are all stardust and stories…